Land and Marine Turbine
Aero-Hose, Corp. manufactures and supplies various low, medium and high pressure hose assemblies as well as rigid tubes in support of the land based and marine turbine markets for power generation.
From standard fuel lines to complex hose/tube combinations, Aero-Hose, Corp. products are used in fuel, hydraulic, pneumatic and bleed air applications.
With its aerospace pedigree, Aero-Hose, Corp. hose assemblies are the ideal solution to support critical power generation applications for power plants, warships, frigates in addition to various remote power needs.
R101 (130/180 SERIES)
A medium pressure aerospace hose assembly qualified to AS1946 and MIL-DTL-25579.
The hose consists of an extruded smoothbore PTFE inner core, reinforced with CRES 304 wire braid in a single layer on sizes -03 - 12, and a double layer (Z) on sizes -16 - 24.
Operating pressures range from 1500 PSI (104 Bar) in the small diameters to 1000 PSI (69 Bar) in the largest diameters.
PTFE provides excellent chemical resistance over a temperature range of -65ºF to +450ºF (-54ºC to +232ºC) with an unlimited shelf life.
Standard fittings are CRES (Class I) or aluminum (Class II).
Fire protection per AS1055 Class A & B can be either integral (RM/RF), or slip-on AS1072 firesleeve. Chafe sleeves are available in a variety of integral or slip-on materials.
Hybrid assemblies combining flex hose with multi-bend tube are a Titeflex specialty and provide improved vibration dampening, ease of installation, and maintenance over strictly rigid tube.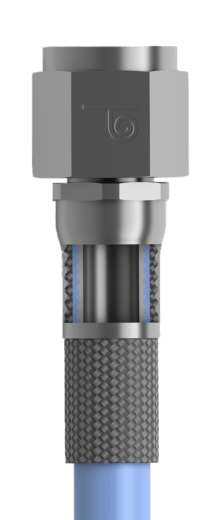 Featured Product
Series
130/180
Specification
SAE AS1946
MIL-DTL-25579
MIL-DTL-27267
Braid
CRES
Innercore
PTFE Smoothbore
Qualification
SAE AS1946
MIL-DTL-25579
MIL-DTL-27267
TSO C53A
TSO C75
130/180 Series Information
Full Catalog
Aero-Hose, Corp. offers a broad range of products for Commercial applications.
All Products